BESTECH and SHYFTinc are partnering with Canadian Blood Services to help ensure lifesaving blood products are available to hospital patients when the need is expected to increase.
As part of a shared commitment to serving the community, the two companies have partnered with the Sudbury blood donor centre, recruiting new donors and filling appointments. The goal is to add 148 donations during the week of June 24-28, before the Canada Day long weekend.

"There are so many reasons to donate blood, and there's a need in the north," said Patrick Fantin, BESTECH Engineering Services General Manager.
Patrick Fantin, P.Eng.
BESTECH Engineering Services General Manger
---
"That's why we're rolling up our sleeves and encouraging staff, clients, friends, and family members to book appointments to donate blood before the long weekend. It doesn't take long, and it's the right thing to do," continued Fantin.
Trang Tran-Valade, P.Eng, PMP
SHYFTinc President
---
SHYFTinc President Trang Tran-Valade added that "Sudbury needs new donors every month to help meet hospital demand. That's why we're challenging ourselves and our colleagues to recruit donors from across our personal and professional networks. It's a small step that makes a big difference."
Between the two companies, there are more than 100 employees, Tran-Valade said. "It can take eight donors a week to help someone with leukemia, and the need for blood is always highest in the summer, especially before a long weekend. That's why we have chosen this time to ask everyone to take time and donate."

BESTECH and SHYFTinc employees, clients, friends, and family members can take part by making an appointment at the Sudbury donor centre on Barrydowne Road. Centre hours are Monday and Thursday from 3 p.m. to 7 p.m., and Friday from 8:30 a.m. – 12:30 p.m. Donors in North Bay may also contribute to the BESTECH and SHYFTinc blood drive by making an appointment at the mobile donor centre. Call 1-888-2DONATE or visit blood.ca for more information about donating or to make an appointment.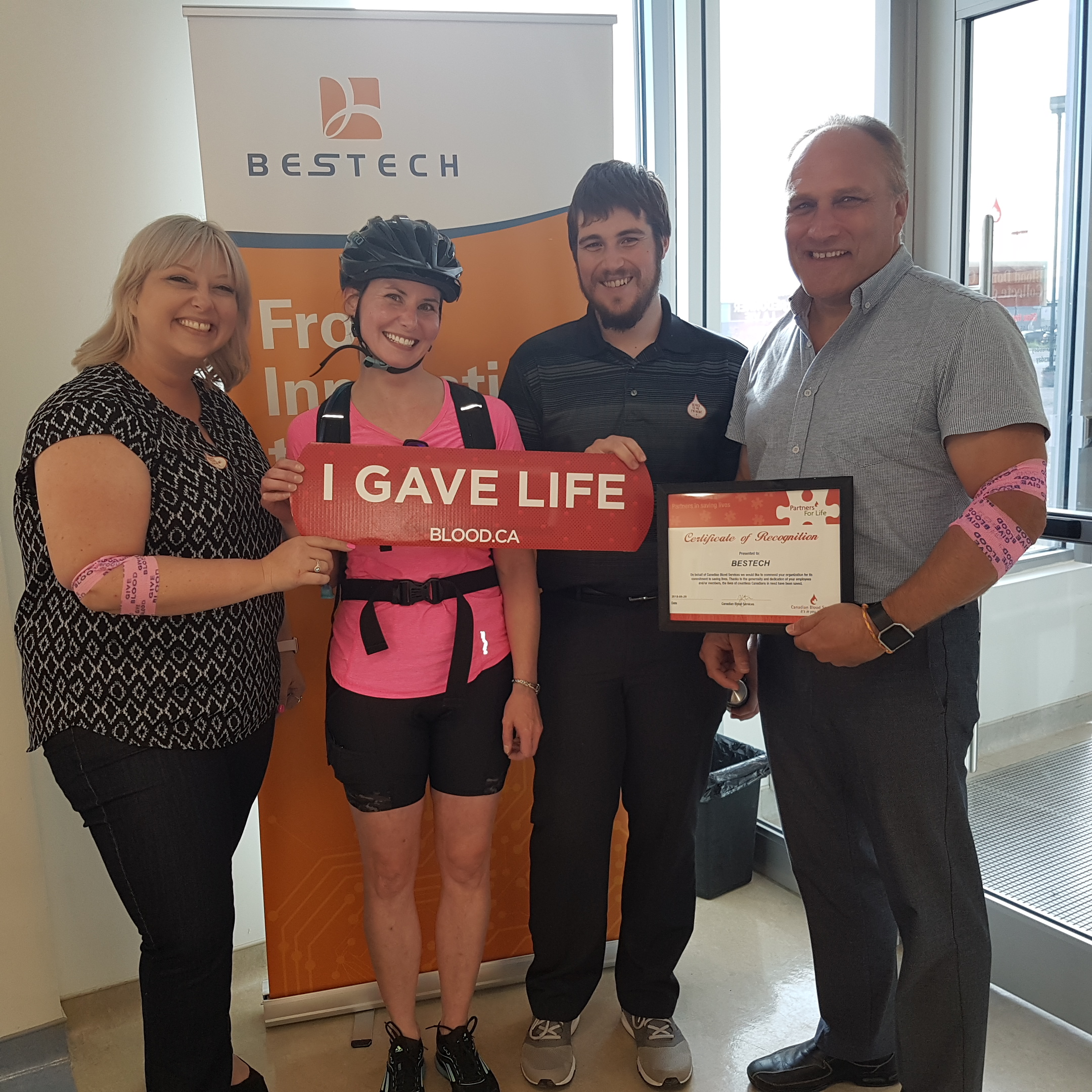 "By partnering with a donor centre, BESTECH and SHYFTinc will make a difference in the lives of hospital patients," said Jenny Fortin, Canadian Blood Services Territory Manager. Fortin said teaming up is a simple process. "Choose a date and recruit donors from your organization, your networks, customers, and community, and you can help give life to those in need. Canadian Blood Services will work with interested organizations to plan and support their involvement." For more information, visit blood.ca/partnersforlife.
-30-
About BESTECH
BESTECH is an innovative multi-disciplinary engineering services firm that partners with clients to deliver results that exceed expectations. Founded in 1995, the company specializes in mining system integration and industrial automation. BESTECH earned many awards for innovation, economic development, and community contributions. In 2019 it was named Employer of Distinction by the largest college in northern Ontario. BESTECH is focused on growth and continuous improvement.
SHYFTinc is an influential and innovative mining technology company. Its mission is to develop and integrate leading-edge solutions that transform the mining process. SHYFTinc delivers established and emerging automation and software products and services that make the mining process safer, more productive, and more profitable.
About Canadian Blood Services
Canadian Blood Services is a not-for-profit charitable organization. Regulated by Health Canada as a biologics manufacturer and primarily funded by the provincial and territorial ministries of health, Canadian Blood Services operates with a national scope, infrastructure and governance that make it unique within Canadian healthcare. In the domain of blood, plasma and stem cells, we provide services for patients on behalf of all provincial and territorial governments except Quebec. The national transplant registry for interprovincial organ sharing and related programs reaches into all provinces and territories, as a biological lifeline for Canadians.

Media contacts
Canadian Blood Services ׀ www.blood.ca
media@blood.ca 1-877-709-7773
BESTECH and SHYFTinc ׀ www.www.bestech.com and www.shyftinc.com
Lynn Bulloch, Communications Manager
705-675-7720, ext. 333
Lynn_Bulloch@www.bestech.com
Lynn_Bulloch@shyftinc.com