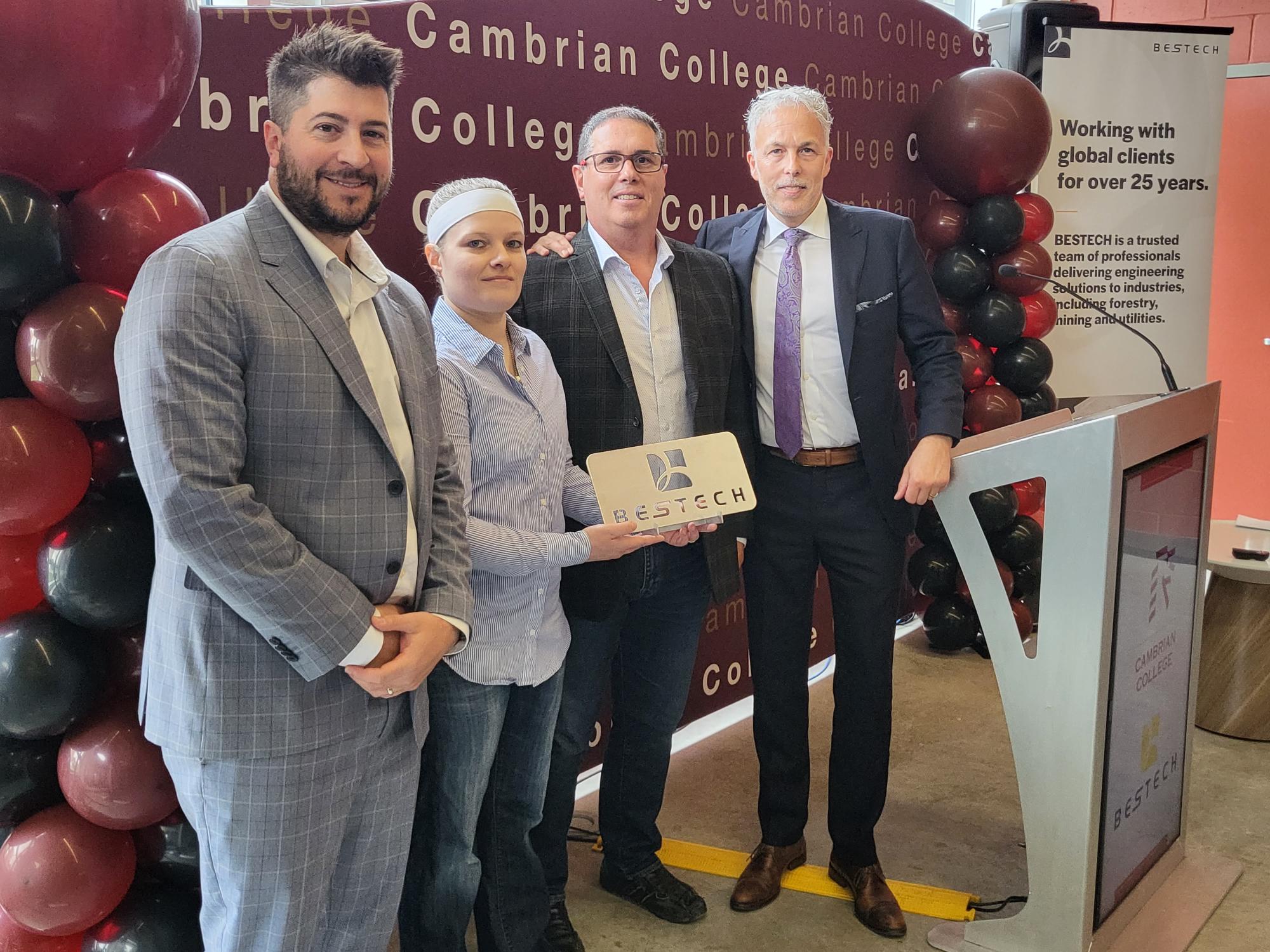 Posted: May 8, 2023
Cambrian's Innovation Centre welcomes $50K donation.
Community Giving
BESTECH, a Sudbury-based engineering firm, made a $50,000 donation to the Battery Electric Vehicle (BEV) lab at Cambrian College on Thursday as a way to help ensure more students trained in the technology are moving into the marketplace.
The new lab is an extension of the Glencore Centre for Innovation and the more specialized Centre of Smart Mining.
BESTECH president Patrick Fantin said the idea of sponsoring the new lab was an easy choice for his company.
"The BEV lab positively impacts every priority set out by our employees. And those are in industry growth, education, environment, environmental reclamation, and, of course, reconciliation efforts." said Fantin.
"BESTECH was founded on the idea of bringing mining innovation to the North. That was back in 1995, and we have remained steadfast in this mission. We work with community partners like Cambrian College, because they share that vision of Sudbury as well, as a hub for economic excellence and industry innovation," said Fantin.
He said it is no surprise to anyone that the mining industry is in the midst of a significant shift toward the use of battery electric vehicles (BEVs).
Fantin said the donation to Cambrian goes beyond investing in the community, in the industry and the environment. He said it is also an investment in a new generation of industry experts and thought leaders.
"We're thrilled to continue to be part of this great college and contribute to the future of mining innovation through the development of this incredible facility," said Fantin.
Also commenting on the new facility was Mike Commito, Cambrian's director of applied research. He said the one thing he keeps hearing from people who tour the Innovation Centre is how often people said they wished such facilities were available when they were a student.
"But for a lot of people who've come through Cambrian, or even people who've gone to other colleges, applied research is still an unknown. And that's unfortunate because it provides so much value to the students and to the companies by giving them access to specialized equipment," said Commito.
One person who is taking advantage of the facilities is Kristi Pugliese, a second-year electrical engineering student who told the gathering that after having worked as an automotive technician in various venues, she is pursuing her second career. She said she needed a new challenge.
"After some consideration, I decided to continue my life and to continue my education here at Cambrian College," she said.
Pugliese said she expected her new knowledge and applied skills will give her an advantage in the evolving electric vehicle industry.
On behalf of herself and other students, Pugliese thanked BESTECH for their donation.
Len Gillis covers mining and health care for Sudbury.com
Related Features:
Sudbury's BESTECH commits $50K to Cambrian's new Battery Electric Vehicle Lab
BESTECH Invests $50,000 in Cambrian College BEV Lab
Cambrian College receives financial boost for new electric vehicle lab