Giving back to our community!
Partnering with our community is at the core of who we are at BESTECH. For more than 20 years, we have proudly engaged with and supported meaningful causes, projects, foundations, and initiatives. Canadian Blood Services, NEO Kids Foundation, Place des Arts, Herizon House Crisis Facility, Muslim Welfare Home, the Sudbury Women's Centre, and the Sudbury Food Bank are only a few of the organizations that we proudly support.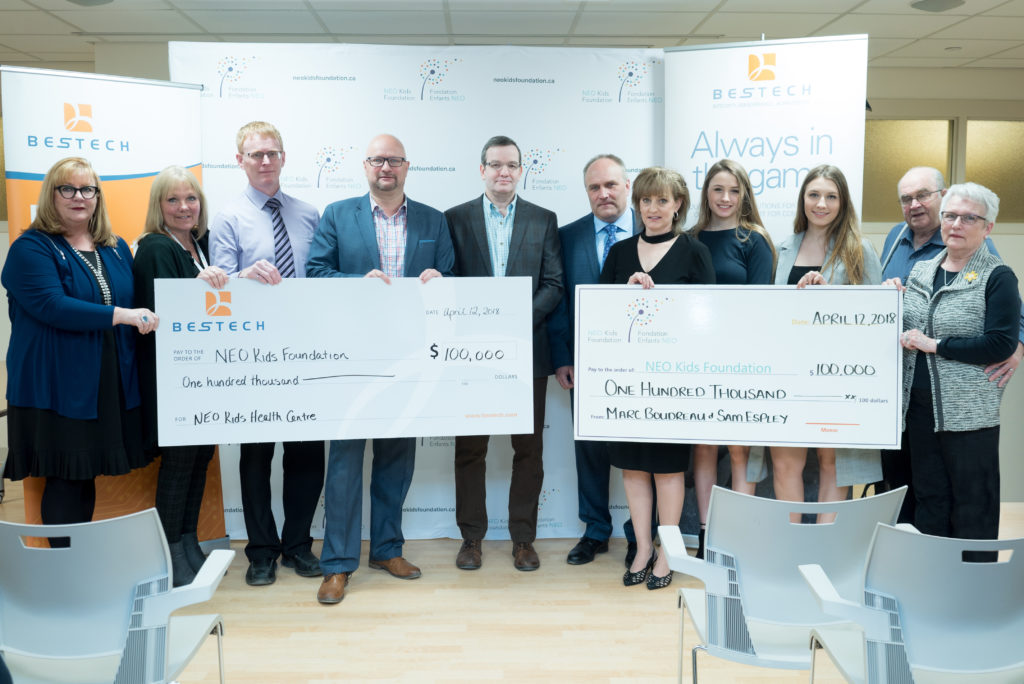 Canadian Blood Services
Canadian Blood Services is "Canada's lifeline." They are nationally responsible for a secure system of life-saving essentials such as whole blood and blood products. You never know when you'll need blood, or who you can help by donating.
NEO Kids Foundation
NEO Kids Foundation is dedicated to building awareness for children's care needs and raising funds for services, equipment, and research to help our youngest and most vulnerable patients in Northeastern Ontario.
Place des Arts
Place des Arts is a gathering place for Francophones and for the entire community. It is a future home for Sudbury's talented artists and cultural workers to gather, collaborate, and to and share in cultural expression.
Herizon House Crisis Facility
Herizon House is a free and confidential shelter for abused women and their children in the Durham Region. They are committed to ending the cycle of abuse and violence in the community.
Muslim Welfare Canada
Muslin Welfare Canada is committed to serving those in need, irrespective of religion, nationality, caste, or creed. Through their programs, they provide shelter, meals and medical services to those in need.
Sudbury Food Bank
The Sudbury Food Bank is dedicated to the alleviation of hunger for those living in the region of the City of Greater Sudbury. They are dedicated to ensuring that every person in the Sudbury community has enough to eat.
Donation Request
Is your not-for-profit organization looking for donations or sponsorship? Send us information about your organization and how we can help.