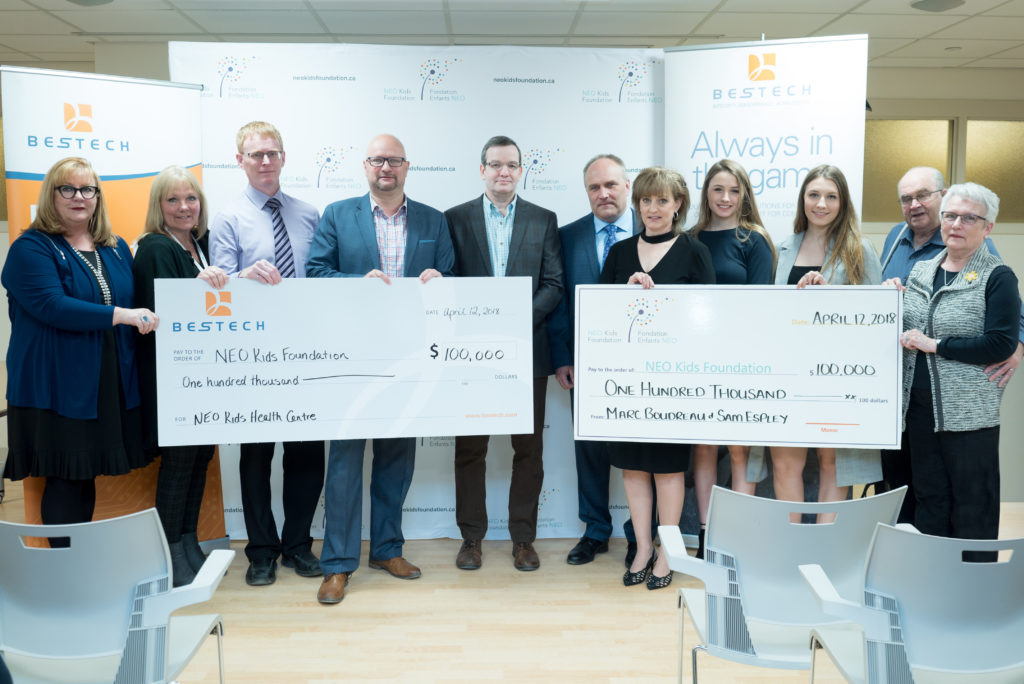 Posted: April 12, 2018
BESTECH and Families Donate $200,000 to the NEO Kids Health Centre
Media Article
Thanks to a combined $200,000 donation from BESTECH and Marc Boudreau and Sam Espley, we are one step closer to keeping our children closer to home. BESTECH announced a generous $100,000 donation to the NEO Kids Heath Centre. In the spirit of donating, Marc Boudreau, President and Co-CEO of BESTECH and his wife, Sam Espley announced that their family will be matching BESTECH's donation of $100,000 to bring the total to $200,000.
This heartfelt donation will go towards the future NEO Kids Health Centre at Health Sciences North (HSN); a centre that will accommodate new clinics, services and more pediatricians to care for children in northeastern Ontario. Every year, approximately 3,900 children from across the Northeast make 10,000 trips to Toronto, Ottawa and London just to receive the specialized care they need. That is an increase of 30% in the past five years. This donation will ensure as many children as possible stay in northeastern Ontario to get the care they need, in a child- and youth-centred environment that promotes health and well-being.
"BESTECH has always been a strong community and influential business leader," said Patricia Mills, President, NEO Kids Foundation. "Their innovations have made them extremely successful and their generosity has made us extremely grateful. It was a double pleasure to have Marc Boudreau and Sam Espley match the BESTECH donation to reaffirm the incredible importance of our mission to have our children cared for closer to home," said Mills. "Their personal and professional philanthropy is inspiring and tremendously appreciated. We are truly overwhelmed with the combined leadership gift we received today. Unbelievable generosity from a local company and a local family."
NEO Kids is continuing to rapidly grow. The demand for pediatric care in northeastern Ontario is also growing. NEO Kids has outgrown its temporary location and HSN is planning a new, permanent centre to house NEO Kids growing demands. Last year, there were 35,000 patient visits to NEO Kids. Demand for services is expected to grow by up to 40 per cent over the next ten years.
"The importance of community stewardship is rooted in BESTECH's Culture. This donation is on not only on behalf of myself and Marc, but also the 100 employees that make up the BESTECH family," says Denis Pitre, Vice-President and co-CEO of BESTECH. "We are proud to contribute to such an important cause that does so much good for the children of Sudbury and Northeastern Ontario. Personally speaking, having lost my nephew to cancer at a young age, my family knows how important it is to ensure that Sudbury kids get the care they need close to home."
"My family and I are pleased to match BESTECH's donation today," says Marc Boudreau, President and co-CEO of BESTECH. "A project like NEO Kids needs both business and community leadership to succeed. 10% of the project capital funds must be raised locally in Northern Ontario before other levels of government kick in the balance. Together we can make this happen, let's do this!"
About BESTECH
BESTECH is a trusted team of professionals specializing in the areas of engineering, automation, software development and environmental monitoring to assist companies in the international mining industry enhance their productivity, profitability and safety. BESTECH's mission is to help secure a future for their employees and their families, clients, communities and partners. Their quality and innovative products and services will enable their clients to improve safety, productivity and profitability. Visit Bestech's website for more information.
About NEO Kids Foundation
NEO Kids Foundation raises important funds to support the health of our children in northeastern Ontario. NEO Kids Foundation is dedicated to building awareness for children's care needs and raising funds for services, equipment, and research to help our youngest and most vulnerable patients. Children need their own voice in health care, champions to herald their health care rights, and resources to help treat their unique medical needs. Find out more about NEO Kids Foundation by visiting their website.