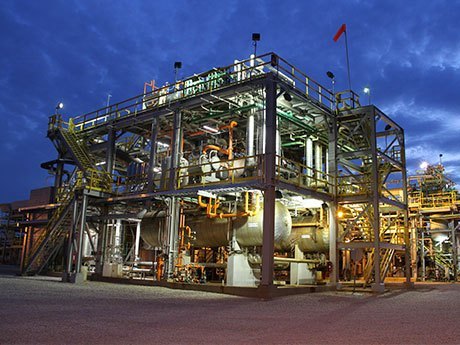 Posted: February 23, 2016
Calabrian Corp. announces SO2 plant for Timmins
Media Article
BESTECH selected as lead engineering firm
A new liquid sulfur dioxide plant to be built in Timmins by Texas-based Calabrian Corporation will provide gold mines in Northern Ontario and Québec with a local source of SO2 for neutralizing cyanide.
"Over the last couple of years as some of the smelters in the area have shut down or reduced their output of liquid SO2, the SO2 market for gold-mining has become very tight in Northern Ontario and Québec," said Calabrian engineering and technology manager Lee Smith. "We began filling that need from our U.S.-based facility, but we see it as an economic advantage for everyone if we can produce sulfur dioxide in Ontario instead of in the United States."
Cyanide is commonly used by gold miners to leach gold from ore, but following the process, the cyanide needs to be rendered harmless prior to being discharged into tailings facilities. Sulfur dioxide does this by converting cyanide to a cyanate.
Having a local source of sulfur dioxide is an advantage to local mining companies because it reduces their supply chain risk, said Lee.
"Whenever you're sourcing one of your key raw materials from a couple of thousand miles away, there's always some risk in the logistics.
The Timmins plant will also serve Eastern Canada's pulp and paper industry, as well as wastewater treatment facilities, "but gold-mining will be our major market and was the reason for our move to Northern Ontario," said Lee.
BESTECH, a Sudbury and Timmins-based firm specializing in engineering, automation, energy management and environmental monitoring, was selected by Calabrian Corporation to provide engineering services for the production facility.
"Once we decided we wanted to be in Northern Ontario, it was important for us to find an engineering firm that could help us understand the climate and the engineering issues related to being in Canada," said Lee.
"We searched out several engineering firms in the area and felt that BESTECH with its size and capabilities was the right fit for us and that they would match up well with the speed at which we want to move."
BESTECH will be the lead engineering firm on the project, completing the land development, structural, mechanical, instrumentation, and the process control requirements. In conjunction with their partner Praetorian, BESTECH will also manage the construction procurement, contracts, schedules and cost controls.
BESTECH project manager Andrea Wuksinic estimates the project will keep between 30 and 35 designers, engineers subject matter experts, programmers and other employees busy until the end of 2016 or early 2017, when the plant is scheduled to be up and running.
Timmins was selected for a number of reasons, said Lee.
"We needed to be central to the gold mines using sulfur dioxide for their treatment and we needed rail access. Timmins met both requirements. We also wanted to be able to move fast because we felt there was an opening in the market, and through our discussions with Timmins Mayor Steve Black and the Timmins Economic Development Corporation we were confident we would be able to move the project at the speed we needed to move it."
Calabrian Corporation uses the trademarked and environmentally friendly SO2CLEAN™ process to manufacture sulfur dioxide. A mature, virtually emission-free technology, SO2CLEAN™ has been used for well over 20 years in Port Neches, Texas, 95 miles east of Houston.